Contact Information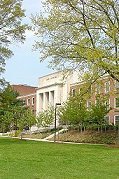 Address:
CRoCCo Laboratory
Department of Aerospace Engineering
3172 Glenn L. Martin Hall Bldg #088
University of Maryland
College Park, MD 20742
Email: mpmartin@umd.edu

Phone


301.405.2376
(x5-2376) on-campus

Fax
301.314.9001


Directions
From Capital Beltway (I-95/495):
Take exit 25B (Route 1, College Park exit) from the Beltway. (If coming from Baltimore on I-95, take exit 27, Route 1, College Park exit). Stay in the right lane on the exit ramp. Go 2 miles and turn RIGHT on Campus Drive (the Main University Entrance). You will see a "YIELD" sign immediately. Turn right at the yield sign onto Paint Branch Drive. Go about 1/2 block and turn right into "XX" lot. Park at a metered parking space.
Please refer to the building maps and the map of the campus for a better sense of location.